In the fast-growing industrial hemp market, industrial gases can play an important role in growing, harvesting, processing, extraction and packaging.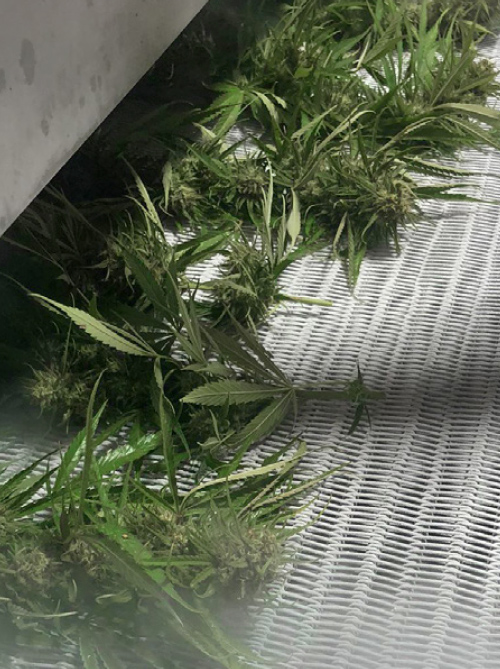 Harvesting – Rapid freezing freshly harvested hemp with liquid nitrogen prior to storage in an Air Products Freshline® MP tunnel freezer can help prevent biomass degradation or mold while locking in the plant's rich chemical content.
Rapid Freezing  (607 KB)
Processing – During the biomass material preparation process, adding liquid nitrogen to the mill when grinding can eliminate heat and subsequent oil stickiness that causes clogging and downtime. Pre-cooling biomass prior to entering extraction using a PolarFit® cryogenic cooling conveyor provides the ultimate means of temperature control.  
Extraction – Whether it be super critical CO2  or ethanol extraction, we have your needs covered. For ethanol extraction, the ultracold properties of liquid nitrogen can be used to achieve and maintain temperatures in the less than -80⁰C range as a more cost effective and efficient means for more precise extraction. For supercritical CO2  extraction, we can safely and reliably provide CO2 supply systems at your facility. 
Packaging (Modified Atmosphere Packaging, MAP) – Dosing the final package with a small amount of liquid nitrogen can serve as a protective layer from oxidation or moisture effectively blanketing the oils enhancing quality and shelf-life.
Case Study

United Bio Freeze has success with Flash Freezing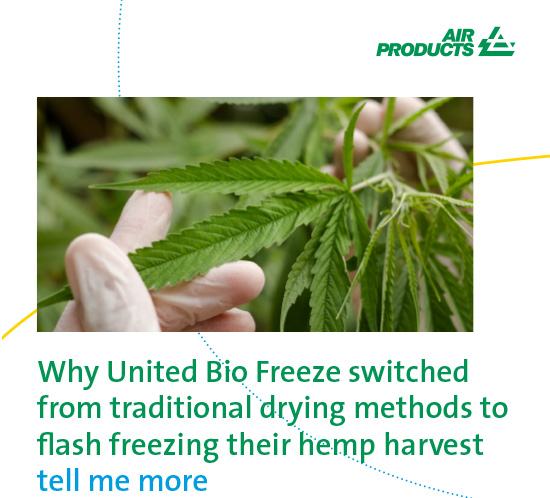 FREE Download PDF →
Process Cooling Magazine February 2020 article

"Cryogenic Cooling Solutions for Compliant Industrial Hemp Processing"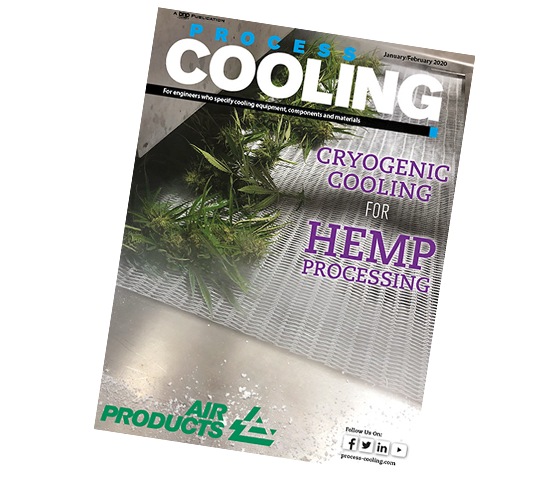 Inerting/Blanketing
– When working with flammable materials or to keep CBD product fresh, using a nitrogen blanketing system is a paramount best practice for safety and to achieve high-quality product. Keeping oils free from moisture and oxygen via nitrogen blanketing can also help extend shelf-life.
Air Products has been successfully supplying industrial gases to the food and pharmaceutical industries for over 60 years and now applies our expertise to support hemp producers as well. Our team of experts can review your process and help you identify opportunities where liquid nitrogen or CO2 can enhance product quality and shelf-life, increase productivity, and improve safety. We have a state-of-the-art applications lab to test your product, or we can visit your site for field testing. 

Cryogenic Cooling for Hemp Processing
Find out more in this short video.
Sales will only be made to customers who can show compliance with applicable state and federal laws and regulations.